Bubble Witch 3 Saga is a Match 3 Saga game from King. 
Making matches of 3 or more bubbles of the same color will destroy them and remove them from the game board.

You can play on your own or connect with friends. Use Flynn the message owl to answer your friends requests and when you need help yourself you'll get lives in return.
The Bubble Shooter usually has two colored bubbles.
The bubble at the top is the next bubble you'll shoot, the bubble at the bottom comes after.
You can swap the bubble by tapping on the center of your Bubble Shooter (where you see the number).
This number in the bubble shooter lets you know how many bubbles you have left.
Aim the shooter and link 3 bubbles of the same color together. Matching will cause all connected bubbles of the same color to be destroyed
Any bubbles that are knocked off when you make a match, will fall into the vortex.

Game Modes
Collection

Collect the required number of Owls!
Each Owl has a specific color and these colors are the same as the bubbles. Make a match that is the same as the color of an Owl in order to collect it!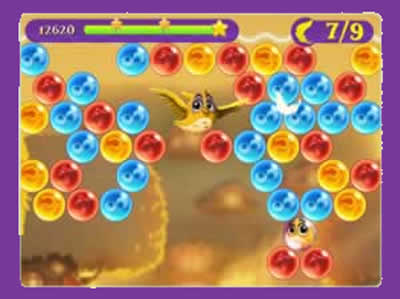 Ghost

Clear a path through the bubbles to make the ghost fly to the top of the screen. Every time you make space higher on the board the ghost will make his way up.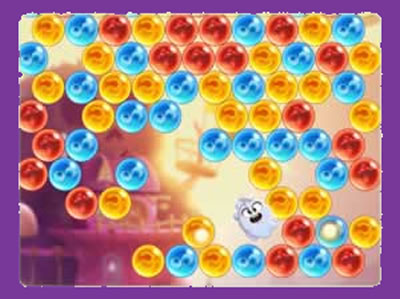 Boss

In Boss mode, you must defeat Wilbur by releasing fairies. Level 10 is the first Boss level.
When his health is down to zero, you will pass the level.
Wilbur's health is represented by the green life-bar at the top of the screen. Wilbur will refresh the screen with new bubbles after every turn.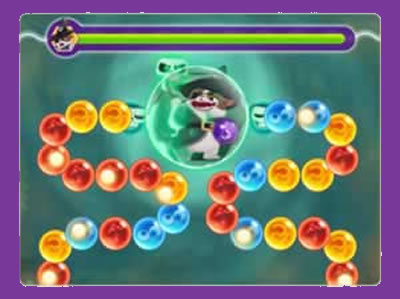 At the end of Level 500 the evil witch Morgana is introduced to the game and features in Boss Levels from Level 540.
To defeat her you need to remove the bubbles that immediately surround Morgana.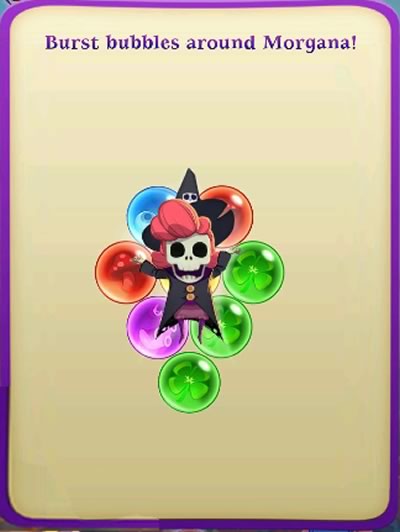 Clear All

In these Levels you must clear 100% of the bubbles from the board.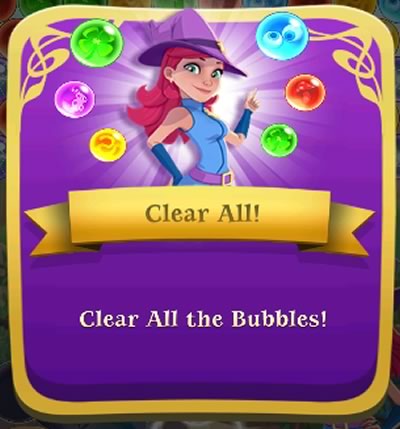 Spells

These can be bought with gold bars, or earned as rewards for upgrading Stella's house and in bonus games like Spooky Library, Treasure Cave and  'peek-a-boo' 

Stereo Bolt
Use this spell to destroy a horizontal line of any kind of bubbles.
Level 19 has free stereo bolt boosters for the whole Level!
Sparkling Blast
Witches bomb! This spell will remove a circular area of bubbles.
Level 34 has unlimited Sparkling Blast boosters for you to try.
Magic Beam
Handle with care! It will wipe out a wide area of whatever it finds in its way up to the top of the screen.
In Level 49 you can use the Magic Beam booster as often as you like.

 
Bubbles and Game elements (these are added as the game advances)
 
Arcane Bubble

This bubble explodes when it is hit. It was first introduced in Level 4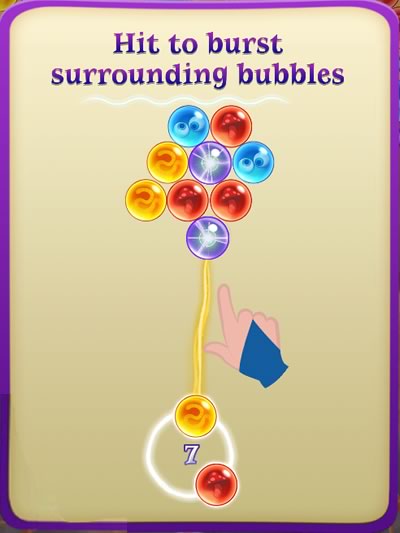 Owls

Owls are trapped inside the bubbles. Release the owls by making a match with them.
Level 5 Shows you how to do this.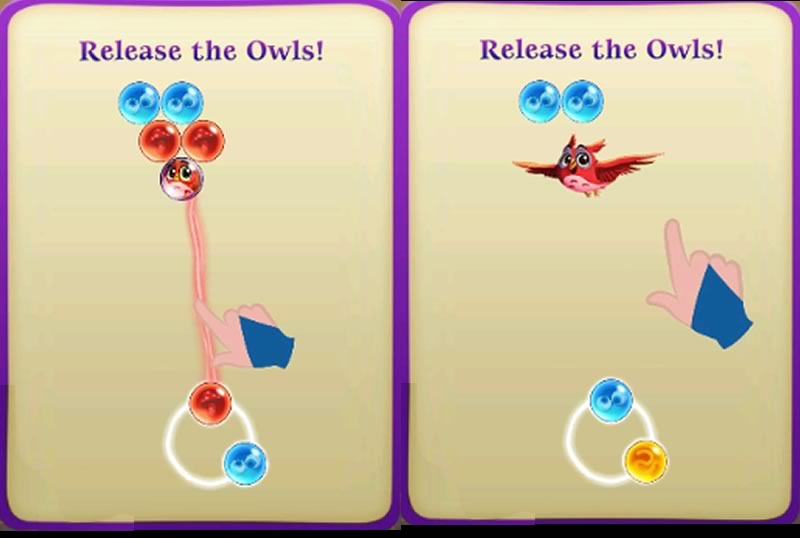 The Special Orb 

The orb is filled from the energy of destroyed bubbles. It removes bubbles and blockers.
You can also feed bubbles in your queue to the orb to speed it up - click on the orb floating above the hat to do this.
When the orb is ready, it will appear in your bubble shooter, giving you three bubbles to choose from. 
You can save it for using later, click on the center of the shooter to switch bubbles.

Level 6 shows you how to use Nero's orb.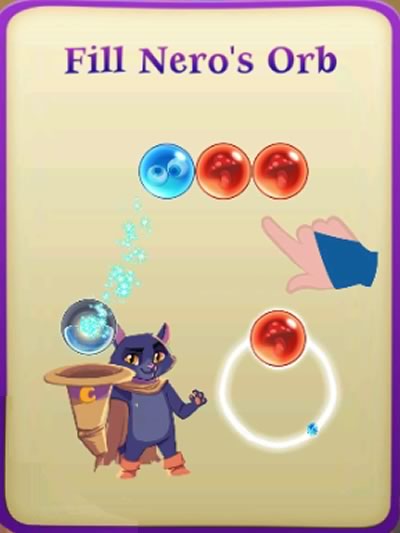 Spider Webs

Bubbles trapped in the Spider Web can't fall. 
To destroy it, you must remove the bubble at its center by either matching it or with a power-up.
The only time webs break without you doing this is in 'save the ghost' Levels. They break as the ghost moves up the screen and webs hit the barrier below.
Spider Webs begin at Level 26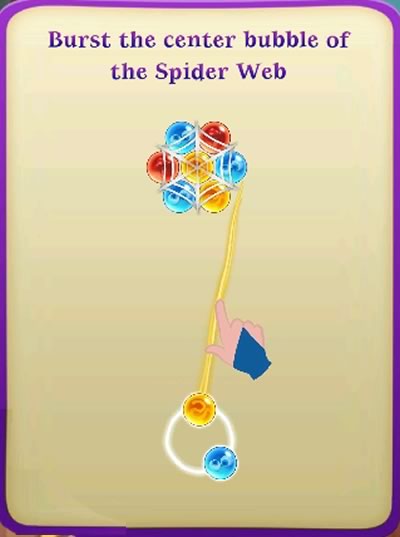 Line Blast

Line Blast bubbles destroy a horizontal line of bubbles.
Level 32 shows how to use the Line Blast.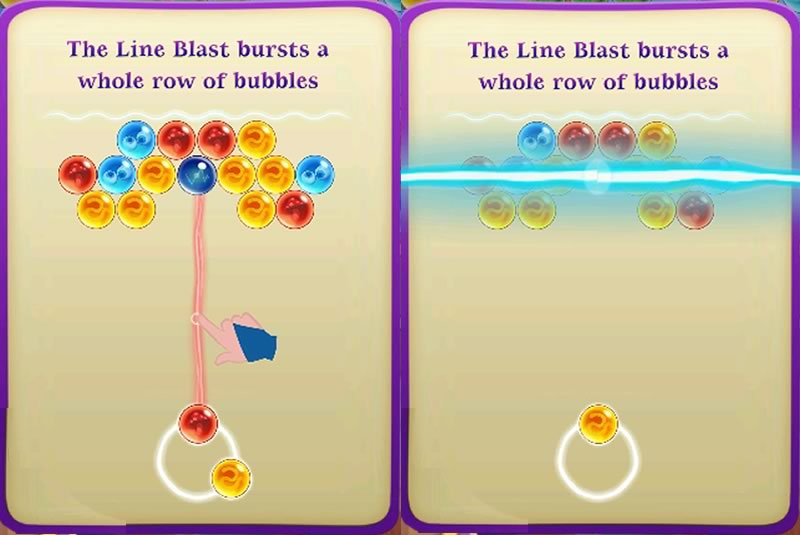 Bat Bubbles

Bats have morphed into bubbles!
Match with the bubble they are on to destroy them. 
If their bubble is not destroyed, but falls, they will find a random new position on the board.
Bat Bubbles are introduced in Level 41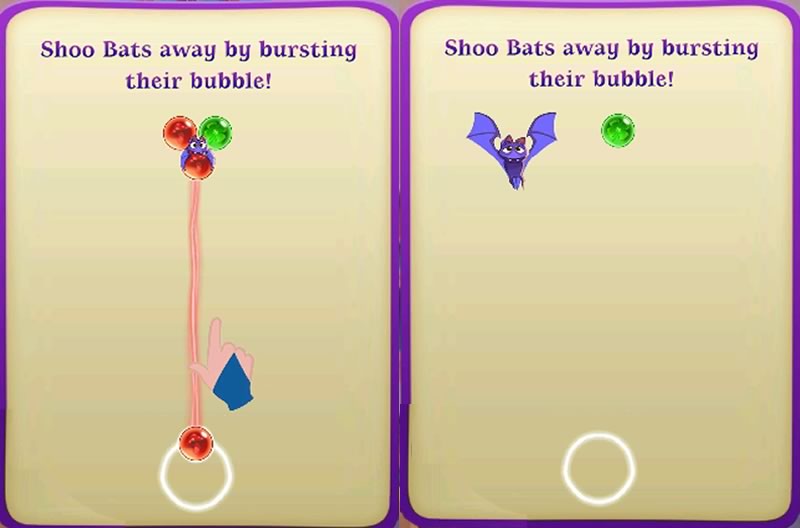 Cloud Bubbles

Clouds cover the bubbles.
To see what colour is under the clouds you must hit a bubble beside the cloud, or send a bubble into the cloud.
See how to deal with cloud bubbles in Level 51.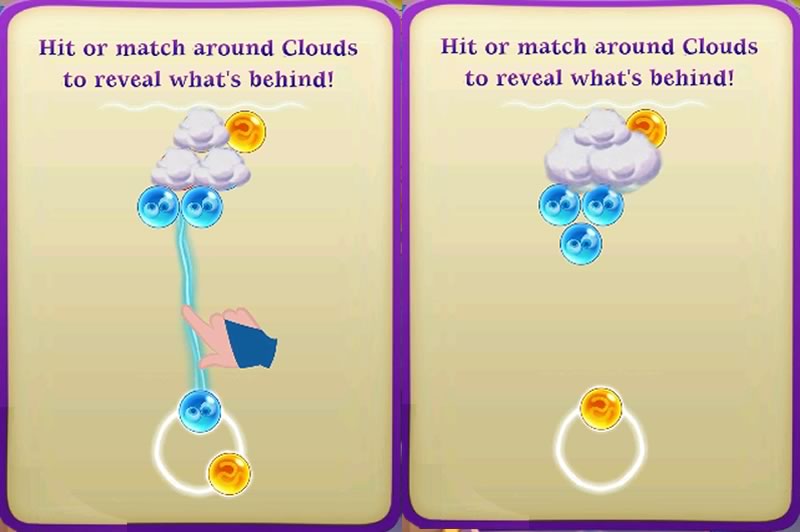 Fire Arrows
 
These Fire Arrows rotate so that they face a different direction every move. 
Hit them with a bubble and they will shoot in the direction of the arrow.
Level 61 is the first Fire arrow Level.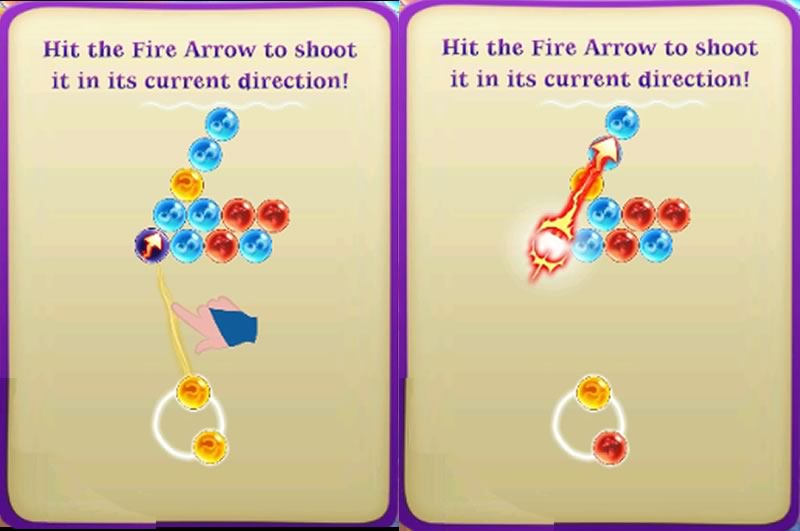 Golem Bubbles
 
These stone monsters start from Level 81.
They alternate between having their mouths open and closed each turn.  
Remove them by matching them with bubbles that are the same color as the bubbles in their mouths (when they are open) or by using Power Bubbles.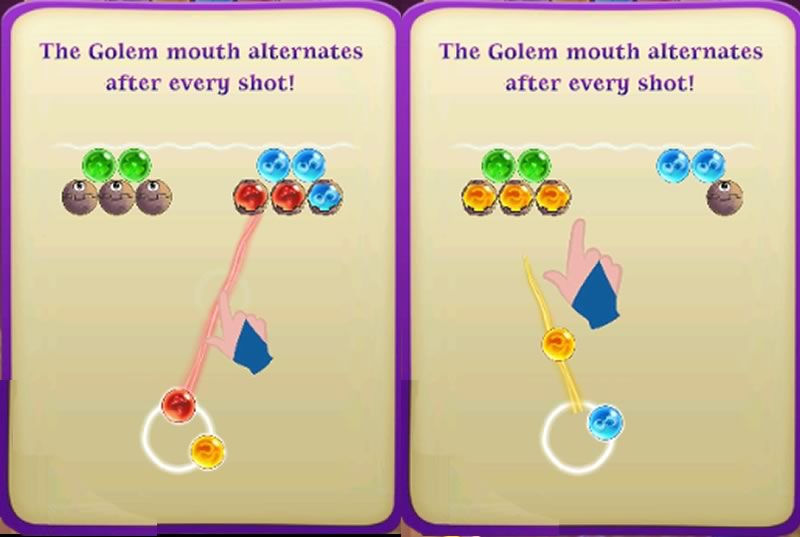 Fairy Nests
 
Hit the Fairy Nest with a color you want to remove and the fairies will fly away and destroy all bubbles of that colour that are showing on screen. 
Hitting it with Nero's orb will make it choose a random color. The first Fairy Nest is in Level 101.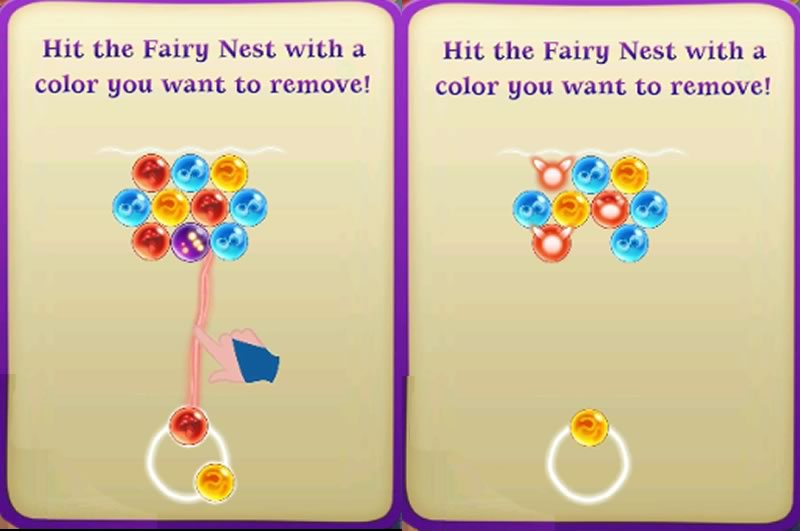 Duo Bubbles
These bubbles have two colors and must be matched with both those colors before it is removed.
For example, if the duo bubble is red and blue, you need to match it with at least two other red bubbles and two other blue bubbles to destroy it.
Duo Bubbles are introduced into the game at Level 121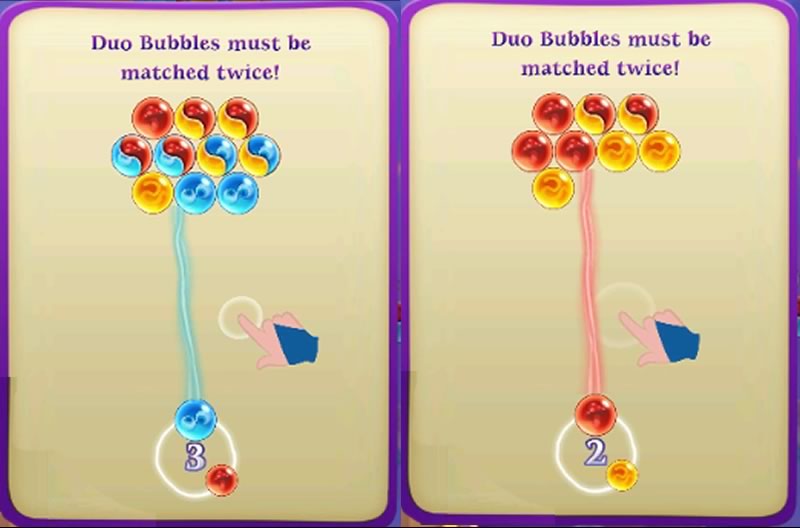 Bonus Moves Bubble
Bursting these will give you extra moves. They start with +5 and count down each turn that it's not collected. 
These often appear in levels that start with a low move count so are essential to passing the Level.
Level 141 is the first Level with these bonus moves bubbles.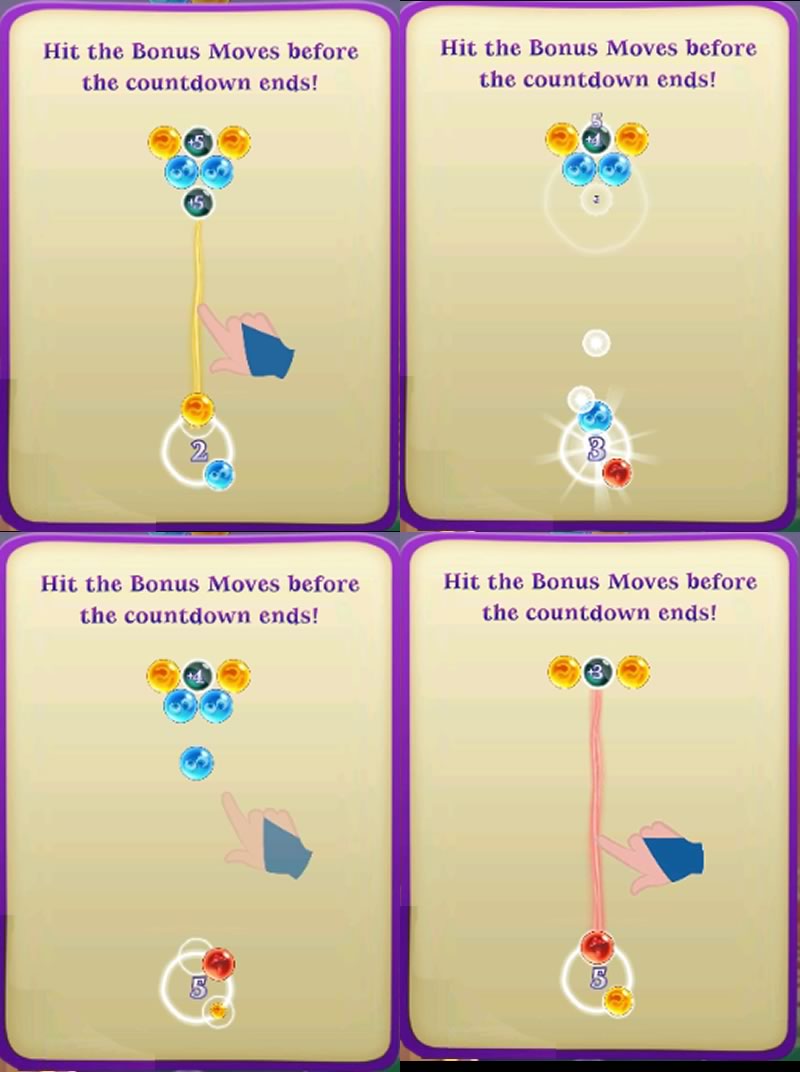 Ice
 
Ice freezes the bubbles. Level 161 is the first Level with ice.
Make matches around the ice to crack and remove it.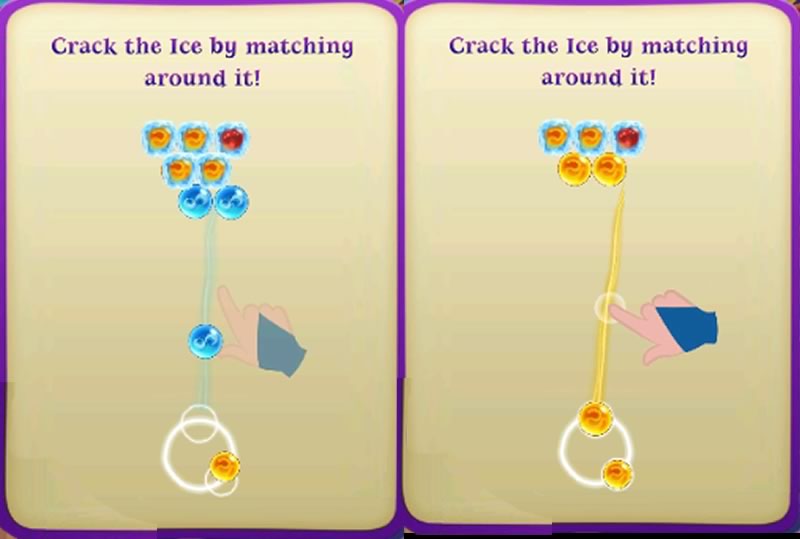 Firecracker Bubble
 
Hitting the Fire Cracker will cause it to explode and destroy a random three bubbles.
Firecracker bubbles start in Level 181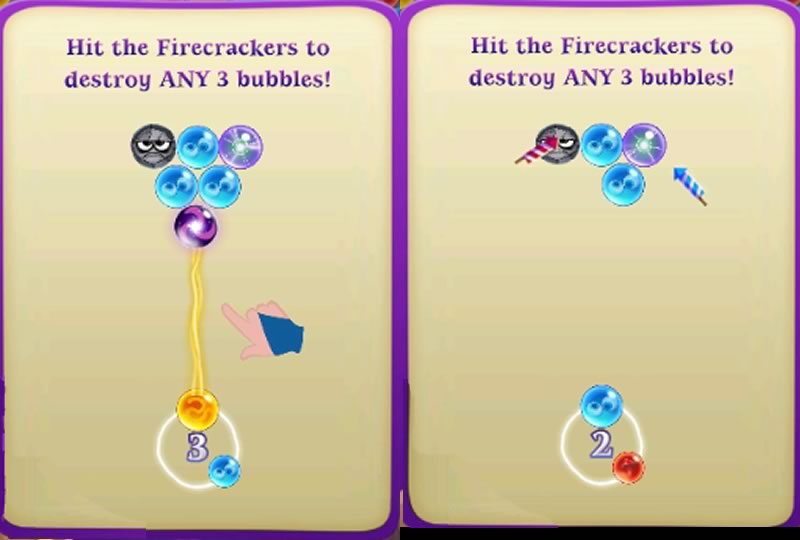 The Pumpkin Bubble

The pumpkin Bubble comes into the game at Level 201
It can be removed by hitting it with any other bubble.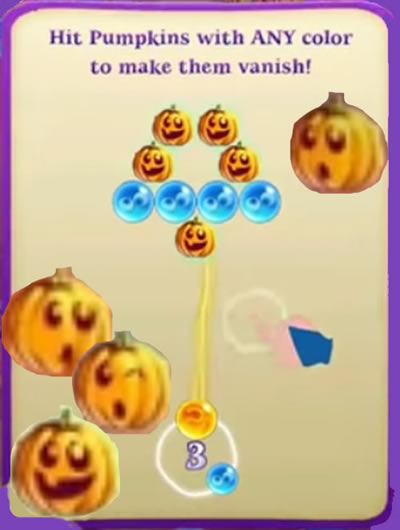 MoreLess Bubble
The MoreLess bubble, from Level 221 onwards,  alternates between -1 and +1
If hit, it will either add or subtract a bubble from your bubble queue.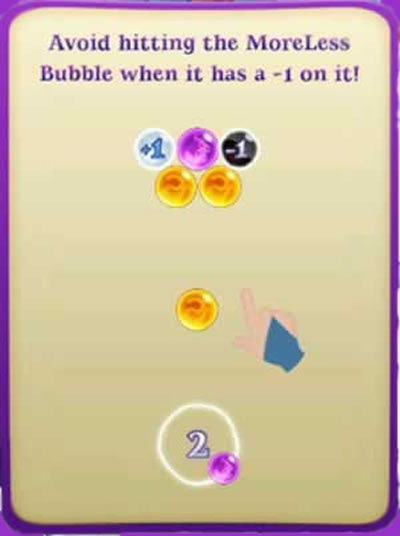 Frogsty
Frogsty is introduced into the game at Level 241
Frogsty freezes bubbles!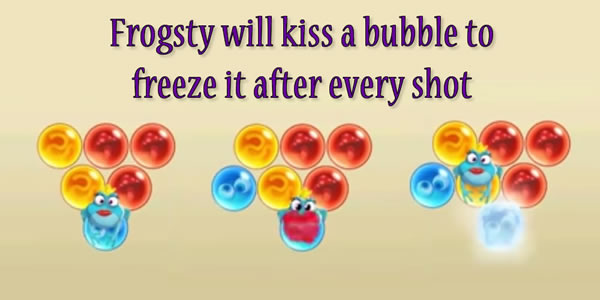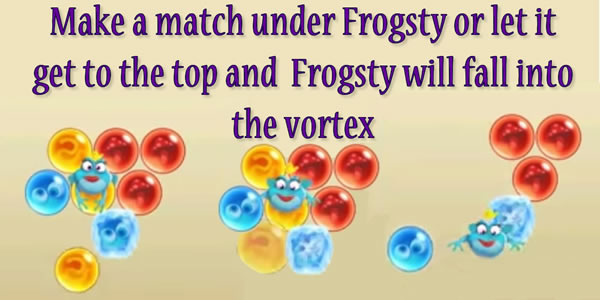 Tint Bubbles
If you hit a tint bubble with any other bubble it will change all the bubbles around it to a random color.
Tint bubbles start at Level 261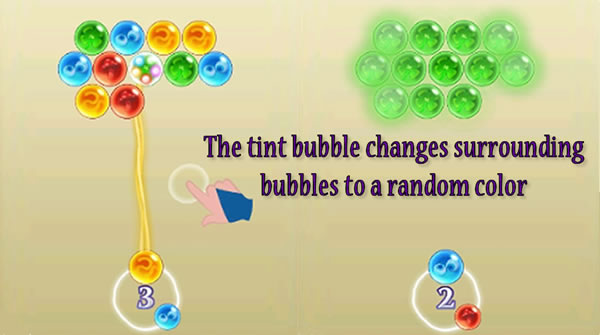 FogFrog
This Frog is similar to Frogsty, but instead of ice, Fog Frog creates a cloud of Fog after each move.
The fog can be removed by hitting it with a bubble, or making a match beside it. FogFrog starts in the game at Level 281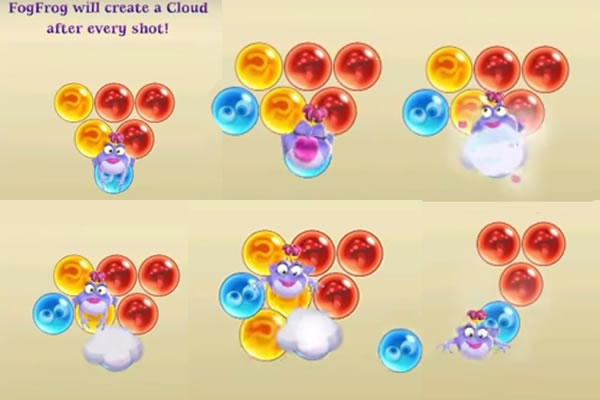 Leaves
Leaves are obstacles that can be easily removed by shooting a bubble through them.
You'll find Leaves from Level 301 onwards.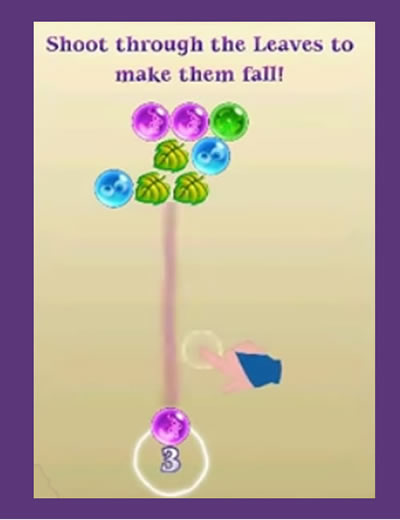 Dubblie
Dubblie doubles the bubbles! Dubbie joins the game in Level 341 and doubles it's self after every move.
To stop him, simply hit Dubbie with any bubble, or drop him by removing the bubbles holding him up.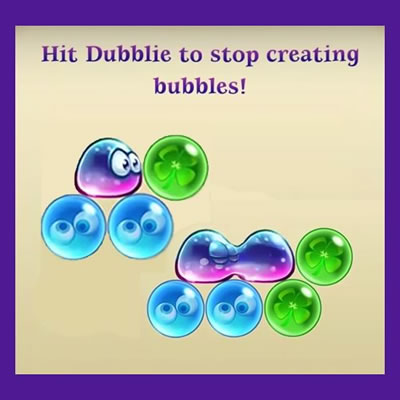 Bubblifier
When hit, the Bubblifier will turn surrounding bubbles into coloured bubbles.
The Bubblifier will turn into the colour you hit it with, but all other bubbles turn random colors.
Bubblifiers start at Level 361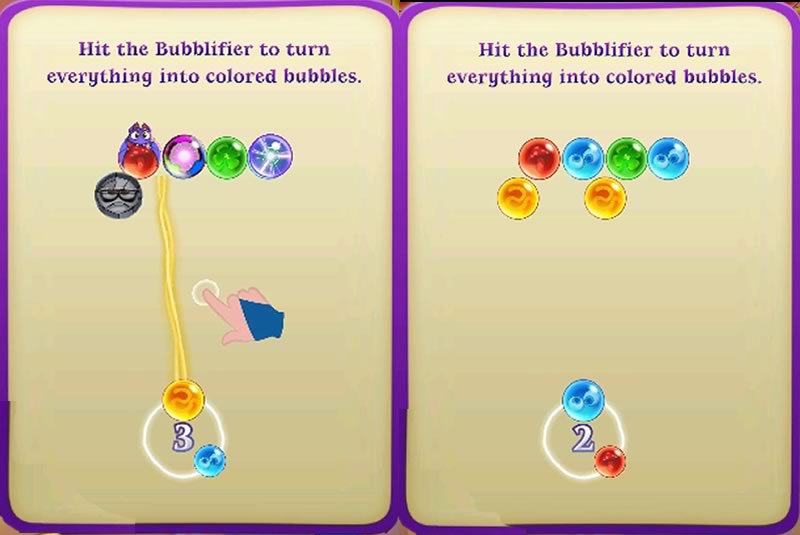 Mirror Bubbles
Mirror bubbles start at Level 401, they reflect the color of the bubble you are shooting.
Remove them by matching.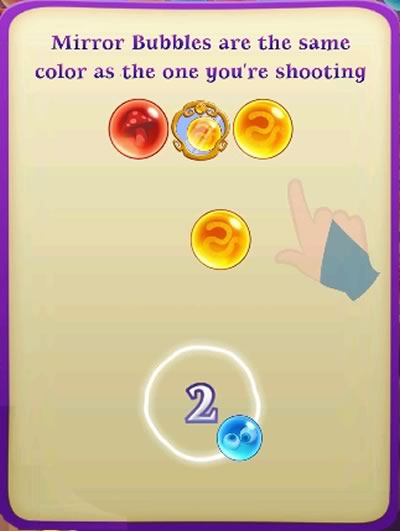 Armor Bubbles
Armor hides these bubbles. You can see there color under the armor.
When you aim at them they will open to reveal the whole bubble.
Any you see open when aiming can be collected if they are the correct color, or the armor removed if hit by a bubble
You will see these in the game from Level 441 onwards.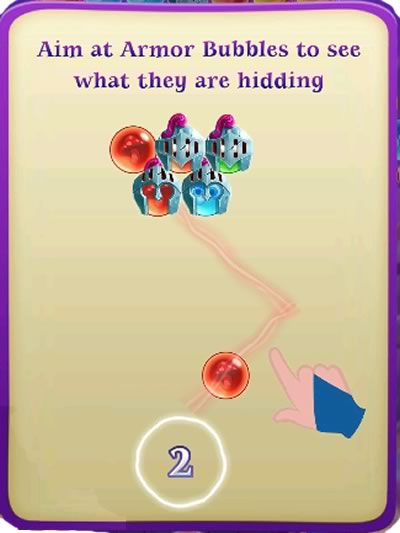 Crystals
If you hit a Crystal bubble it will remove any bubble, or group of bubbles that are touching the Crystal.
Level 481 introduces us to Crystals.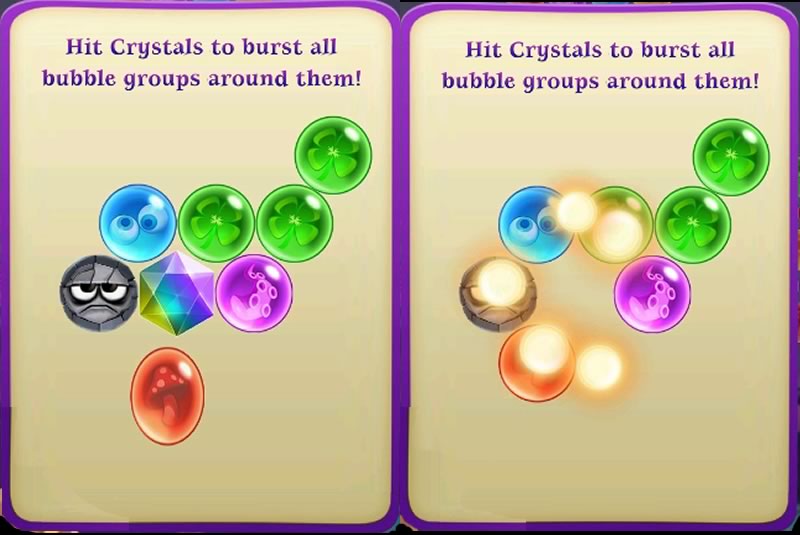 Golden Beetles
Golden beetles are flighty little things!
They will move to the top most row/s of the board every move.
The only way to be rid of them is to match them or use a power up.
See the Golden Beetles in Level 541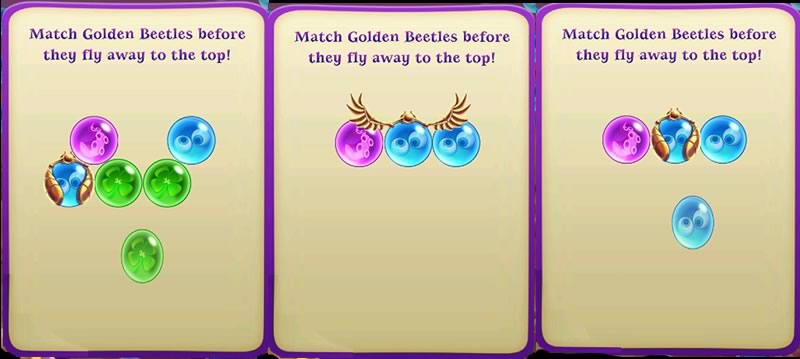 Quests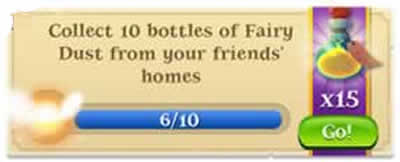 Clicking on the Nero icon at the left side of the game will take you to Nero's Quests 
You will see what you need to do to complete each quest and gain more fairy dust. 
Once you have completed the quest, return to the quest page and claim your Star Dust.

Stella's Home




You get to build and upgrade Stella's home, with help from the fairies.
To do this you will need to get stars by completing levels. The better you do in a level the more stars you will receive (up to a maximum of three stars per level). 
For every 15 stars you receive, you will gain 1000 Star Dust, which you can use to purchase upgrades.
To get to Stella's home, click on the home icon. In this menu, you can buy and upgrade items around your house - if you have the required amount of Star Dust.
Click on the area you would like to upgrade. You will then be given style options. Then wait the required amount of time until that item is created.
Upgrading Stella's home earns you in-game prizes/boosters.
Visit other player's homes and collect extra Star Dust by touching the fairies.